LATEST EDITION - August 2011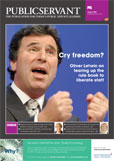 CRY FREEDOM? STRATEGY MINISTER OLIVER LETWIN IN AUGUST'S PUBLIC SERVANT
While the government offers no sign of easing back on the pace of reform, strategic planning minister Oliver Letwin offers a longer view through his Open Public Services White Paper. He writes in the August edition of Public Servant with a cry for freedom.
Bureaucratic imperatives must finally yield to the needs of service users. He reveals a new challenge for professionals – that, he believes, will be a liberating experience and will restore responsibility and discretion.
New Local Government Network director Simon Parker, Institute for Government programme director Tom Gash, Professor Richard Kerley and Professor Helen Sullivan provide alternative analysis.
"It is scary," Commons Public Accounts Committee chairwoman Margaret Hodge admits to Public Servant as she points to a cycle of "shocking waste" and risk aversion that handicap true reform. Ministry of Defence permanent under secretary Ursula Brennan and Identity and Passport Service chief Sarah Rapson reveal how leaner organisations can triumph.
New LGA chairman Sir Merrick Cockell sets out his three immediate ambitions and calls on councils to seize the initiative.
COVER STORIES:
Cry freedom? Oliver Letwin on tearing up the rule book to liberate staff
Called to account: Margaret Hodge aims to break Whitehall's shocking cycle of waste – p14
An age-old problem: will Dilnot's proposals solve the long-term care crisis? – p17
Leaner and fitter? Ursula Brennan gets to grips with transforming the Ministry of Defence – p18
Localism doesn't end at the town hall: Sir Merrick Cockell urges councils to seize the initiative – p20
CONTENTS:
Politicians and police ignored data breaches, says ICO – p5
Bichard: government agenda incoherent and unconvincing – p6
Elected mayors 'a disaster' in diverse areas – p8
Re-thinking ahead: Helen Sullivan on 21st century services – p10
Graham Allen: intervene early to aid neglected children – or face a tsunami of dysfunction – p10-11
Mutuals: success comes from sticking your head above the parapet – p21
Leadership and skills special report: Sarah Rapson on the value of frontline experience – p23-33
Maude unveils blueprint for radical civil service reform – p27
Management Clinic: re-imagining public sector jobs – p35
Making commissioning work – time for new health leaders – p37
One step at a time: Scotland's shaky path to growth – p39
Public sector sets the stage for Edinburgh Festival to celebrate the human spirit, says Professor Philip Riddle – p41
Long-term strategy or quick fix? Debating the benefits and pitfalls of outsourcing – p43
Renewables: is there light at the end of the tunnel? Grassroots projects show brightest prospects – p49
Tower Hamlets transforms through hard-nosed analysis – p51